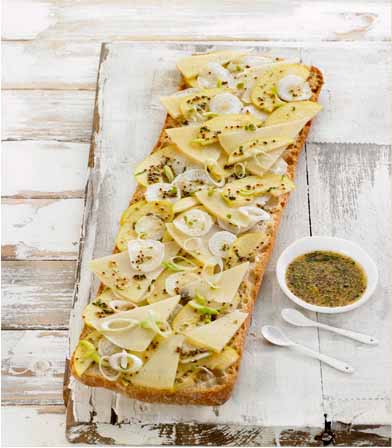 Ingredients (2 People)
Ciabatta bread.
1 canned white asparagus.
1.5 oz of Gran Reserva Manchego Cheese.
1 leek (the most tender leaves).
1/2 apple.
1 tsp of grained Dijon mustard.
2 tbsp of extra virgin olive oil.
How to prepare
Begin by cleaning the asparagus, the leek and the apple.
Remove the skin off the apple.
Thinly slice the asparagus, the tender white leek leaves and apple and dress them with mustard and olive oil.
Take out the ciabatta loaf bread, cut it in a half and place in a preheated oven at 450F for 5 minutes.
Once the 5 minutes have lapsed, take the bread out of the oven and start plating it.
Place the thinly sliced crudités (vegetables) and dressing them over the toast followed by thin slices of the Manchego Cheese over the top.
Last but not least, cut into smaller parts if desired and enjoy! :-)
For the delicious Manchego in this recipe, visit us here.
‣ For the best delicacies from Spain in the USA visit us at IbericoClub.com
View our free Tapas Academy video recipes!
Guardar
Guardar