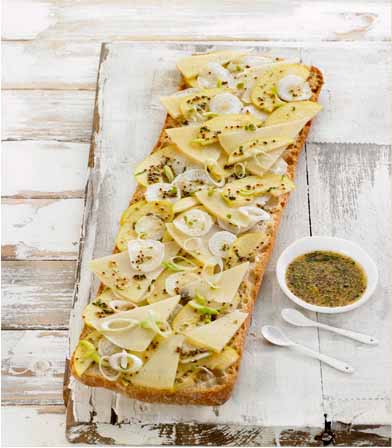 Ingredients (2 People)
Ciabatta bread.
1 canned white asparagus.
1.5 oz of Gran Reserva Manchego Cheese.
1 leek (the most tender leaves).
1/2 apple.
1 tsp of grained Dijon mustard.
2 tbsp of extra virgin olive oil.
How to prepare
Clean and very thinly slice the asparagus, the tender white leek leaves and the apple without skin. Dress them with the mustard and olive oil.
Cut in half the ciabatta bread loaf. Grill in the oven at 450 degrees for 5 minutes.
Put the thinly sliced crudités and dressing over the toast and finally place thin slices of the Manchego Cheese on top.
Divide the toast into smaller portions and enjoy!
And don't forget to visit us at Ibérico Club to get the Best Manchego Cheese  in the World and other artisanal delicacies imported from Spain.
Guardar
Guardar