The BEST bread for Jamón Ibérico de Bellota?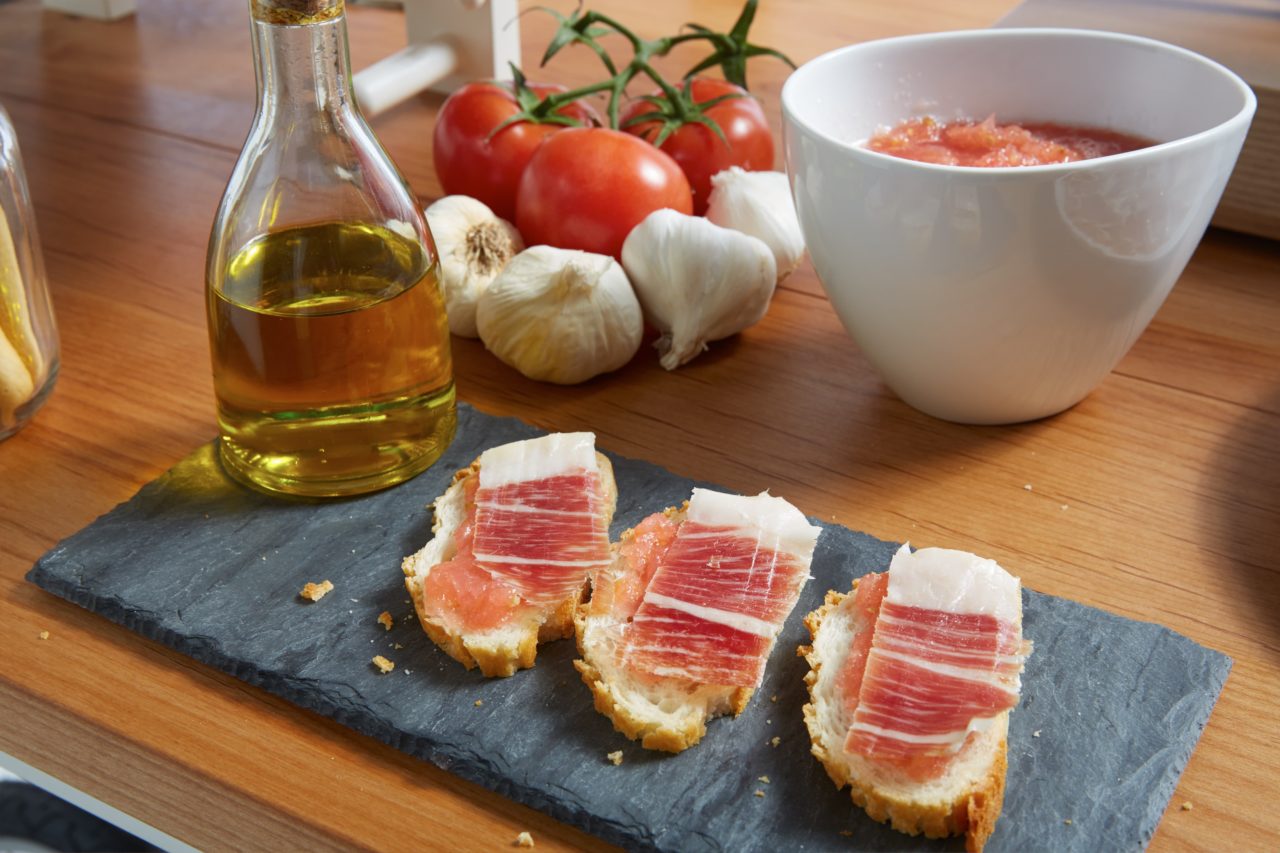 What is the best bread for Jamón Ibérico de Bellota?
Well, the answer is "The one that you like the best". But we'll give you some tips on how to choose a good bread to pair with an unforgettable plate of Jamón Ibérico de Bellota.
Jamón Ibérico de Bellota has a unique intense flavor with a note of sweetness, nutty undertones and sublime tenderness. So in order to maintain and enjoy this flavorful bite, we suggest that you get bread that doesn't mask this flavor. Try to avoiding breads with cranberries, pumpkin flavor, thyme, or other breads that have a lot of flavor and will overpower the delicious Jamón Iberico.
We like to use French baguette, Italian bread, or similar breads that have the natural properties of a crispy outside crust and a soft inside with flavors light enough to not overpower the exquisite flavor of the Jamón Ibérico de Bellota. Sourdough is an acceptable bread, although not 100% what we would recommend because it is a dense bread with more flavor than the previous breads we mentioned, therefore making it a less ideal bread to pair with Jamón Ibérico de Bellota.
To toast or not to toast?

It's your choice, but as a general rule of thumb, if you're lucky enough to have freshly baked bread, we ask don't toast it since it be delicious as is; on the other hand, if you bought the fresh baked bread in the morning and paln to have it for dinner, you may want to give it a little toast.
Remember, you want the bread toasted only so slightly that it is crispy in the outside and soft in the inside.
Size of the slice of bread: The size should be small enough so that you can easily grab it and eat it with one hand.
Tomato, extra virgin Olive Oil, and garlic. These are optional, but work great with the toasted bread and Jamón Ibérico de Bellota. You can rub the toast with some tomato and garlic, and put a hint of extra virgin Olive Oil.
Here is a video recipe of this recipe with the tomato rubbed on it:
[Video] Pan Tumaca Recipe
And, of course, you can find the finest Jamón Ibérico de Bellota and other delicacies from spain here: ibericoclub.com. Enjoy 😉