Chorizo Iberico de Bellota: A Key Piece of the Spanish Gastronomy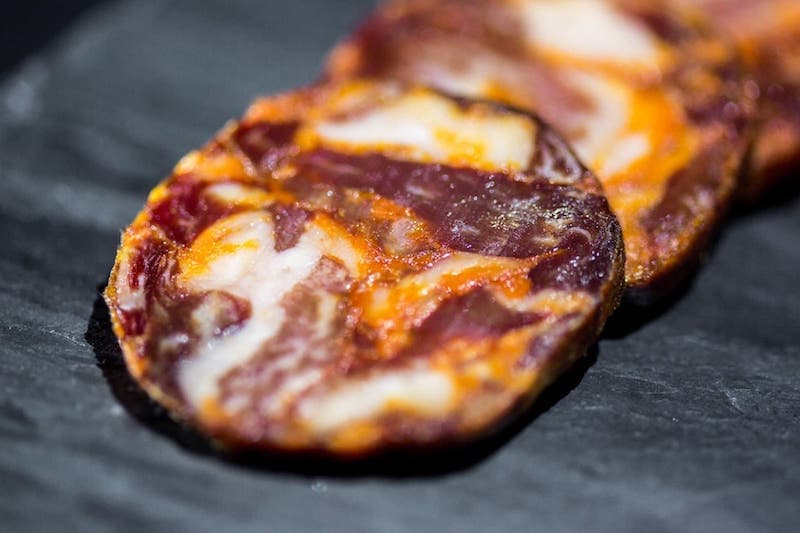 Iberico Club's Chorizo Ibérico de Bellota is handcrafted with the finest pork meat from free-range Ibérico pigs that feed on acorns and natural grass from the Dehesa forest in Andalusia.
The Premium meat is carefully selected to make the best chorizo ibérico de bellota in the world and then marinated with paprika and other special herbs, once complete, the chorizo is then stuffed into a natural casing to preserve its delicious flavor,
For the artisanal curing process, each piece of chorizo rests in our natural "secaderos" and "bodegas" in silence and harmony for more than 2 months. We patiently wait until they are at its optimum curing point.
Each piece is approximately 1.1 lb and has a distinct flavor, aroma and texture which makes them unique and different from any other cured meat you've tried before.
How to enjoy it:
In order to enjoy to the fullest our Artisanal Chorizo 100% Ibérico de Bellota, follow these tips:
Before opening the package, store it in a cool and dry place.
Once opened, keep it refrigerated.
Consume within 30 days.
Do not serve cold! Enjoy at room temperature to get all the aromas and unique complex flavor.
Slice thinly with a very sharp knife.
Discard the non-edible natural casing of the slices before consuming.
Enjoy with some sliced bread or our authentic Picos Camperos.
Pair with some Manchego Cheese and your favorite red wine.
Where to buy it:
It's simple. At Iberico Club we import the finest artisanal Chorizo 100% Ibérico de Bellota in the USA. Honestly, give it a try!