Delicious Morcilla Iberica de Bellota Bites (with Piquillo Peppers)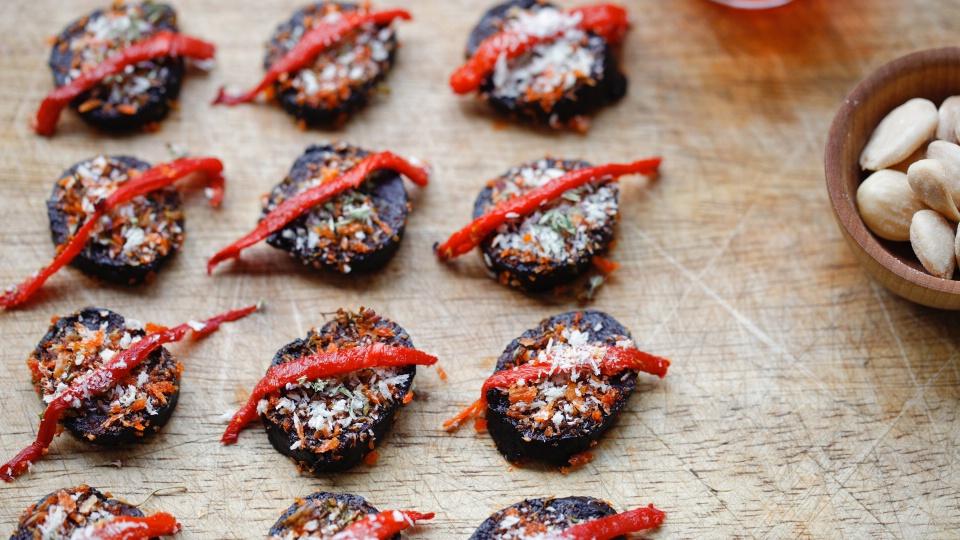 These Morcilla Ibérica de Bellota Bites are a very easy yet gourmet appetizer you should try on your next dinner party. In just 10 minutes you will have the perfect Tapa to share with friends and family. This type of morcilla sausage is very special with a unique and delicious flavor. The gourmet fire-roasted Piquillo Peppers from Lodosa, Spain, provide the silky, smoky but fresh touch.
Our Morcilla Ibérica de Bellota is cured and ready to enjoy, so you just have to slice it and you can heat it in the oven but no need to cook.
Follow these easy instructions:
Ingredients
Morcilla 100% Iberica de Bellota
Piquillo Peppers from Navarra
Breadcrumbs (Preferably Panko)
Oregano
Extra Virgin Olive Oil
How to prepare
Preheat your oven to 400F
Get a cooking tray, place foil, and a little olive oil where the items will be placed later.
Take out the morcilla and with a knife cut about 1/4 inch slices.
Place the morcilla slices in the tray, making sure to leave a little space between them.
Sprinkle the morcilla slices with Panko breadcrumbs and oregano.
Now, add the piquillo pepper, we recommend small pieces, you will place them on top of the morcilla, but feel free to venture out and cut bigger pieces.
Sprinkle a little more breadcrumbs on top
And place the tray in the pre-heated 400F oven for 4-minutes!