How to enjoy Acorn-fed Ibérico ham this summer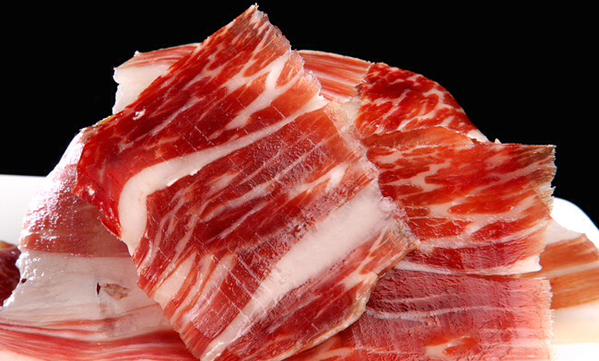 The truth is that there are only a few steps to follow to enjoy Jamon Iberico during the summer days.
Forget the refrigerator, find a cool place to store the ham that is away from direct sunlight.
Then, the ideal temperature to consume it should always be between 70 and 76 F.
When you open the ham for the first time, use a strong knife to take away the first layers of skin and yellow fat. Once you get to the white fat, start using the ham knife (long and flexible) and save some thin slices of this fat to cover the exposed meat once you finish for the day.
When carving the Ibérico ham, try carving very thin slices with a good amount of fat, this fat is tasty and healthy.
The fat of a good acorn-fed Ibérico ham (Jamón Ibérico de Bellota) is where all the aromas and flavors are; eating this ham without its fat is enjoying it only at 50%.
Make sure to enjoy your Jamón Ibérico de Bellota with a cool drink during the summer. A cold beer, a glass of chilled champagne or pair it with one of the best things that you can pair Jamón Ibérico with: Sherry, specifically "Fino" or "Manzanilla."
‣ For the best Jamon 100% Iberico de Bellota in the USA, visit us here.
‣ For the best delicacies from Spain in the USA visit us at IbericoClub.com
View our free Tapas Academy video recipes!