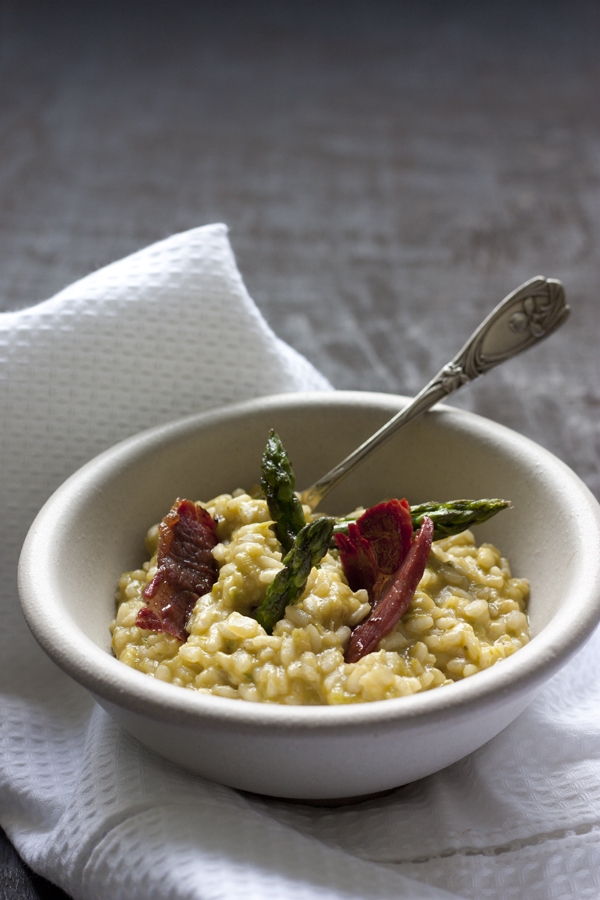 Parmesan Risotto with Crispy Jamón Iberico & Asparagus
Ingredients (4 People)
2 bunches asparagus, tough bases removed

1 slice lemon peel

12 oz. arborio rice

1 shallot, minced

1 cup dry white wine

1 quart

Jamón Broth

2 oz. freshly grated parmesan

8 slices Jamón 100% Ibérico de Bellota

4 Tablespoons butter

4 olive oil, divided 

Salt and pepper to taste
How to prepare
Cut asparagus into 2" pieces, reserving the tips.

Sauté remaining asparagus pieces and lemon peel with 2 Tablespoons of olive oil on medium heat. When it starts to soften and change color, add about 1 cup of hot water to cover and cook covered for 10-15 minutes.

Blend into a puree and set aside.

Heat medium skillet until hot and carefully add slices of Jamón Ibérico, cooking until just begin to color and are crunchy. Set aside on a paper towel.

In the same skillet, add 1 tablespoon of olive oil and sauté the asparagus tips for a couple of minutes, until color brightens. Set aside.

Warm Jamón Broth in a sauce pot on the stove on low heat.

In a wide and deep pan, heat 1 tablespoon of butter and 1 tablespoon of olive oil on medium heat. Add shallot and cook until soft.

Add rice to pan and stir to keep from burning.

When the rice begins to get a pearly color, add the white wine, stirring to combine.

Once wine has evaporated, slowly add 1 cup of broth and stir gently. When broth has evaporated, add another cup, repeating the same process until almost all the broth has evaporated and rice is al dente and creamy. Make sure to stir frequently, but not constantly.

Add asparagus puree to rice and stir to combine.

Remove from heat and add 3 tablespoons of butter and parmesan, stirring gently to combine.

Garnish each dish with the crisped Jamón Ibérico and asparagus tips. Serve immediately!