The Best Lomo Ibérico Toast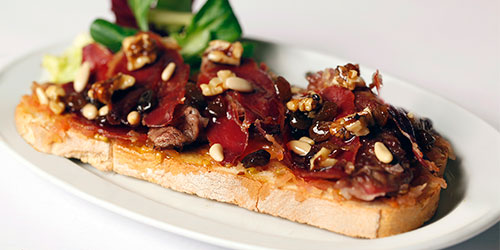 The slight acorn notes from the delicious Lomo Ibérico (Iberico Pork Loin) go hand-in-hand with the buttery pine nuts and toasty walnuts to create a flavorful irresistible experience that will make you crave for more! Top these toasts with sherry-soaked raisins and honey for next-to-perfect flavor balances and the ideal way start to your meal. This is one tapa that will have everyone asking for more!
Ingredients
1/3 cup raisins 
1/4 cup sherry vinegar 
Extra-virgin olive oil 
6 slices of crusty bread
Artisanal Lomo 100% Ibérico de Bellota, thinly sliced

 

1/2 cup toasted walnuts, chopped
1/3 cup toasted pine nuts
How to prepare
Place the raisins and vinegar in a bowl and let them sit for about 15 minutes or until raisins are plump.

 

Brush the bread with olive oil and toast it in the oven until golden.

 

On each toast, place a few slices of lomo ibérico and top with raisins, walnuts, and pine nuts, then drizzle with honey and serve it.

 

You are now ready to enjoy the best lomo iberico toast! Yum!