The Best Wines to Pair with Jamón Ibérico (and other delicacies)

Pairing Jamón Ibérico de Bellota with wine and other Spanish delicacies.
What bottle of wine do you reach for when it's time to carve the jamón? Any Spanish wine is the natural inclination, but it's not always best. Remember, Pata Negra is unlike any other charcuterie out there. This jamón is incredibly complex. It's powerful yet delicate. It's salty but sweet. The texture is soft enough to melt like butter. When you indulge in a slice of hand-carved Jamón Ibérico, a burst of umami awakens your taste buds, while the silky fat coats the inside of your mouth and glosses your lips. You won't find this wild sensation in any other food. And a complex food begs for a particular kind of pairing. It must be treated with care and respect. Here's how to eat and drink with your new favorite tapa: Jamón 100% Ibérico de Bellota.
History of Jamón Pairing
Legend has it that Spanish bartenders used to lay thin slices of jamón ibérico over the rims of wine glasses to protect the drinks from unwanted bugs and dust. This idea of the tapa, translating to "top" or "lid," grew into a nationwide custom of pairing small bites of cured meats and cheeses with Spain's local wines. Though merely one of many tapas origin stories drifting around the country, the legend proves the inextricable link of jamón ibérico and vino, cured ham and wine
Pairing Jamón with Sherry
Most Spaniards will tell you there's no better pairing than a slice of Pata Nega and a glass of dry sherry. This is not your grandma's wine. In Spain it's most typically consumed in six main varieties: Fino, Manzanilla, Amontillado, Palo Cortado, Oloroso, Cream, and Pedro Ximénez. Sherry is a vertebrae in the gastronomic backbone of southern Spain, particularly in its region of origin, Jeréz de la Fronterra.
Other than the sweet Cream and the syrupy Pedro Ximénez, these dry, high alcohol wines make the best of partners for a savory slice of Pata Negra. The Manzanilla and Fino are dry, but not tannic, refreshingly light, but with a faint body that holds up to the jamón's strength. Amontillados, Palo Cortados, and Olorosos Secos are also dry but with nutty and smoky overtones that barely grace the tip of the tongue. The flavor and aroma of these wines is unique—strong but not overpowering, bursting with complexities. Jamón Ibérico, a unique and complex delicacy, needs just that sort of wine to complement and compete with its character.
Sherry wines are slowly rising in popularity in the U.S., but the assortment is still limited. You should be able to find every variety at your local wine store or a larger retailer, though Palo Cartado may prove to be more difficult. Not all bottles of sherry in the U.S. will denote the exact varietal, but the good bottles display all the info. If the label says "dry," it's obviously dry. But if it doesn't give any other information other than "sherry," it's likely a sweeter variety and won't fare well with jamón. When in doubt, go to a specialty wine shop and ask your wine gal or guy. They'll lead you in the right direction.

Our Sherry Pick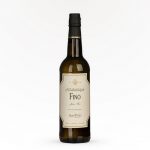 Region: Jeréz, Spain
Grapes: Palomino
Winemaker Notes: Opening with typical notes of green olives, this refreshing fino gives way to delicate wildflowers on the nose. Pairs perfectly with classic tapas but can also last the whole meal through with seafood and even sushi. This wine is meant to be served very-well chilled and can be used an aperitif as well as the most refreshing accompaniment to many classic, simple sea

Pairing Jamón with Red Wine
Spain is most widely known for its musky reds—leathery aged Tempranillos and smoky Monastrells. These styles of red wine, or tintos, as we call them, are the most common U.S. exports, but that doesn't mean they're ideal for the delicate and distinct flavors of Jamón 100% Ibérico de Bellota. In fact, many of those Spanish red styles can distract and sadly subdue some of those poignant nutty notes of the delicately cured ham. Instead, look for young reds that aren't too tannic or extensively barrel-aged.
Coming from Spain's award-winning Rioja region, you find the Rioja Crianza—a young Tempranillo wine aged for about two years. It's soft, earthy, and not overly tannic, free of those musty smoke aromas that can overpower a good jamón. A Crianzas is a great everyday wine and an ideal bottle to keep around the house.
Ribera del Duero, hailing from the Castilla y León region, is another young and soft Spanish wine that pairs beautifully with jamón. If you want to venture outside of Spain, look for wines that are young and spend little time in oak barrels. An Italian Chianti Classico is a great option, or even a wine as light as a Pinot Noir.

Our Red Wine Pick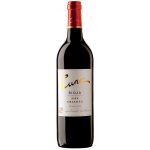 Region: Rioja, Spain
Grapes: Tempranillo, Garnacha, Mazuello
Winemaker Notes: Garnet color with violet notes on the meniscus. In the nose it is surprisingly aromatic especially emphasized the red fruits and licorice in balance with the aromas from the American barrel which reminds us of vanilla and cocoa with some caramel. Its smooth entry into the mouth takes you to a round step with a long fruity retro-tai

Pairing Jamón with White Wine
Red with meat, white with fish. That's the general consensus when it comes to very basic pairing, but it's terribly limiting. Many white wines, or blancos, actually do just as well alongside Pata Negra as they do a flaky filet of fresh fish. When choosing a white wine to compliment the manifold tastes of jamón, go light and dry. Anything overly fruity, sweet, or oaky can clash with the salinity and complexity of the jamón, robbing it of some of its unique flavors. Albariño, a bright and dry wine from the northwest province of Galicia is a fantastic Spanish pairing. Outside of Spain, a Chenin Blanc, Pinot Grigio, or a dry Riesling also does the jamón ibérico well.

Our White Wine Pick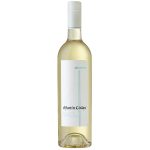 Region: Rio Baixas, Spain
Grapes: Albariño
Winemaker Notes: A refreshing food friendly white wine, Albariño is crisp, elegant and dry and has aromas and flavors of pear, passion fruit, and apple with bright acidity.
Pairing Jamón with Cava
Dry, refreshing, and full of bubbles, Spain's famous sparkling always calls for a celebration. And what better way to celebrate than with a plate of Pata Negra? Cava doesn't have those yeasty undertones like champagne, making it a clean and softer partner for an umami-laced piece of jamón ibérico. Most cava is dry but there are a handful of sweet varieties. Make sure to pick a dry bottle of this Spanish bubbly.
Our Cava Pick
Region: Penedes, Spain
Grapes: Macabeo, Xarel-lo, Parellada
Winemaker Notes: " Vibrant aromas of ripe peaches, pears and toasted bread with a hint of spice fill the nose. The palate is dry with a rich, creamy texture. Layers of flavor include orange rind and spice that persists through an elegant finish."

Pairing Jamón with Cheese
Manchego cheese is right up there with Spain's greatest gastronomic accomplishments. A raw sheep's milk cheese from the Castilla La Mancha region, the artisan delicacy is specially cured for more than nine months and laced with the robust flavors of roasted nuts and a firm, velvety texture. You can find a manchego or two at a specialty grocer in the U.S., but you won't try anything like the Gran Reserva Dehesa de Los Llanos. This particular Manchego was named "The Best Cheese in the World," acclaimed by some of Spain's mot famous chefs, and unparalleled in quality and taste. Because of its powerfully long finish and distinct qualities, it's an ideal accompaniment to a plate of hand-carved Jamón 100% Ibérico de Bellota and those paired wines we mentioned above. We recommend eating the jamón and Manchego in independent bites, separated by sips of wine to clean the palate. Though you won't experience any foul flavors when eating jamón and manchego in the same bite, you won't get the full, individual experience of each delicacy.
Our Cheese Pick: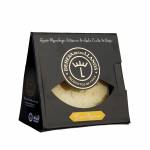 Unique Artisinal Manchego "Gran Reserva" Dehesa de los Llanos
Region: Castilla La Mancha, Spain
Tasting Notes: "Aroma of roast ingredients, dried fruit, walnut & hazelnut. Strong flavor full of hints with a long finish & firm texture."

Pairing Jamón with Picos
If you want something lighter or a simple accompaniment to keep in the pantry, you'll need picos. Picos are used much like bread in Spain. They're essentially short breadsticks that give the accompanying charcuterie, cheese, or any other tapa, a baked crunch. Our picos camperos, or "country" picos, are handmade in Seville, Spain and baked in a wood-fired oven. They're completely natural and made only with flour, water, sea salt, and yeast. Picos are a simple and classic pairing for jamón ibérico and all Ibérico Cured meats.
Our Picos Pick: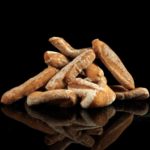 Handmade Wood-Fired Picos Camperos 
Region: Seville, Spain
Enjoy these 100% artisanal small extra crunchy breadsticks directly imported from Seville, Spain.
  
Pairing Jamón with Bread 
While Manchego is another gorgeous car on the Spanish culinary highway, bread, or pan, is the road that humbly carries them from one town to the next. In Spain, we use bread like an extension of our other hand—it soaks up savory sauces, spoons bites onto our forks, and sops up the last bits of bright green olive oil underneath a juicy tomato salad.
Many bars and restaurants in Spain serve jamón over a slice of crusty white bread. This isn't the time to look for hearty grained breads or whole wheat seeded types. You want something neutral, with just a bit of a crunch to counter the jamón's soft and sultry coating. If you crave a bit more flare, whip up a quick pan tumaca, as it's called in Valencia. Known also as pan con tomate or pan amb tomàquet depending on the area of Spain, it translates simply to "bread with tomato." Slice that same crusty white bread in half, toast it, split a tomato, and rub the tomato over the cracked and browned insides of the bread. Add a drizzle of olive for a final touch.

The Perfect Marriage
In Spanish, the word for pairing is maridaje, which literally translates to "marriage." Think about your jamón pairings like a happy marriage. Sometimes they complement each other so succinctly that the wine and jamón become one and create an entirely new flavor. Other times the picos are simply there to support and offer a subtle crunch, letting the jamón shine. There's a push and pull, an intertwining of flavors and textures that showcase the most exquisite parts of Spanish gastronomy.

Your Own Jamón Pairing Experience
Everyone's tastes and preferences are distinct. You may not be fond of sherry or prefer a bolder red with your jamón ibérico. Experiment with wines. Try out different foods. Have fun with it until you find your favorite pairings. Here's a nice guide on how to host a wine tasting at home from our friends at Porch. We've given you some suggestions and guidelines but the most important part of pairing is that you actually enjoy it. Be free to create your jamón experience.