Why is the Acorn so important for the Jamón Pata Negra
Ever wondered what gives the right percentage of fat and protein to the jamón Iberico? THE ACORNS! The acorns that the Ibérico pigs eat in the Dehesa forest (Holm oak forest) during the Montanera period.
(The "Montanera" period refers to the time in which the pigs live in the Dehesa forest freely and feed mainly on grass and acrons).
The Acorns are the main source of energy of the Ibérico pigs. The acorns usually ripen throughout November and January, though this depends on the location of the trees and their genetic characteristics; furthermore, where the acorn trees are located give the acorns different forms and/or flavors, which directly affect the quality of the final Jamón Ibérico de Bellota.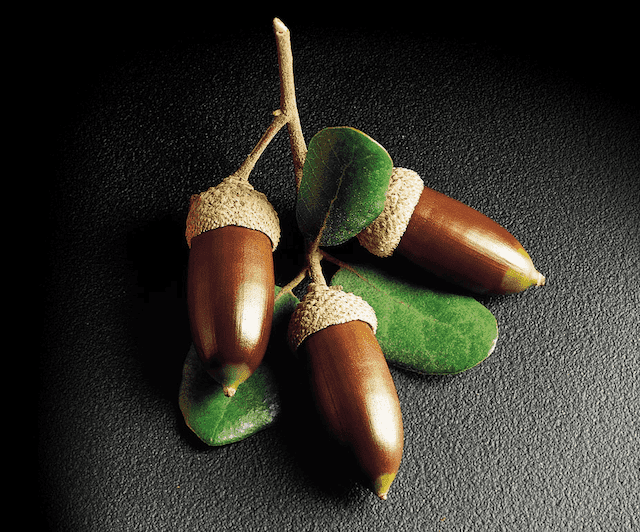 From a nutritional standpoint, the acorns provide the pigs with the following levels of nutrition: protein (5%), fats (3%) and minerals (2%) and sugars (45%); these figures can vary depending on the level of ripening and dehydration at the moment when the acorns are consumed by the Ibérico pigs. It's important to emphasize the high proportion of Oleic Acid (around 63%) in the jamón Ibérico de bellota.
For an Ibérico pig to be considered as Acorn-fed "de Bellota", it has to naturally eat 500-550 kg (1,100-1,200 lb) during its bulking years! For every 7 kg (15 lb) of acorns and 2 kg (4.4 lb) of grass, the pig gains 1 kg (2.2 lb) of weight.
‣ For the best Jamon 100% Iberico de Bellota in the USA, visit us here.
‣ For the best delicacies from Spain in the USA visit us at IbericoClub.com
View our free Tapas Academy video recipes!