Mushrooms Stuffed with Jamon Iberico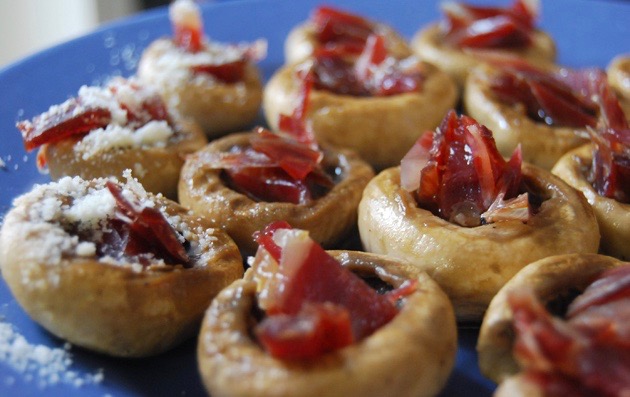 We dare you to find a better filling for these succulent garlic mushrooms.
Ingredients
12 large white mushrooms, stems separated from caps 
Juice from 1/2 lemon
Extra-virgin olive oil
Salt
5 cloves garlic, thinly sliced 
Jamón 100% Ibérico de Bellota
Fresh ground pepper
How to prepare
Clean mushrooms using a damp paper towel. Rub with lemon juice to keep from browning. 
Heat 2 tablespoons of olive oil in large sauté pan on medium heat. Finely chop stems and add to pan with a pinch of salt. Cook until soft and add garlic, cooking until fragrant and stems brown. Place stems mixture in separate bowl. 
Add another tablespoon of oil to the pan and place mushrooms face down to cook the underside. Cook for 7-10 minutes until soft and browned. 
While mushrooms are cooking, mix jamon iberico with stem mixture. Add a pinch of black pepper. 
Flip mushrooms and fill with jamon and stem mixture, cooking until jamon is warm and fat begins to melt. Serve warm. 
Products in this recipe