Delicious Tomato Salad with Spain's World Renowned Anchovies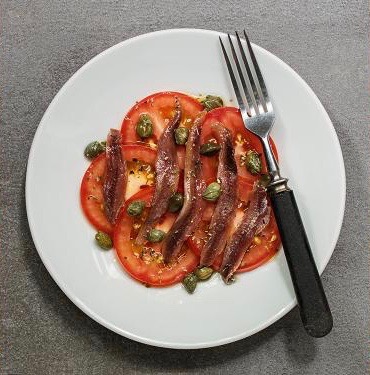 This summer, enjoy the most delicious and easy to make tapa, Tomato Salad with Anchovies!
Made with worldwide renowned anchovies from Cantabria, Spain, beautifully juicy heirloom tomatoes, briny capers, and a hint of delicious olive oil. 🤤.
These fine and delicate anchovies from Santoña, Cantabria, Spain have a firm texture and are very delicately deboned by hand, fillet by fillet, two times! It is a pretty tedious job, but it is totally worth it. The fillets have the perfect amount of salt and are aged for more than 12 months in a unique Extra Virgin Picual Olive Oil. The result of this traditional and artisanal process is an unbelievable anchovy that has no rival anywhere else in the world. Check our anchovies here: Best anchovies in the world
There are many ways to enjoy such a delicate anchovy; for example, you can toast some bread, rub a ripe tomato, add some extra virgin olive oil and top it with the queen of the anchovies from Cantabria. Or you can prepare some slices of apple and top them with the anchovies. Also, cream cheese is a good pairing in an anchovy toast; however, today we will be making a fresh and delicious recipe, very common in Spain. Cheers!
Ingredients
2 large heirloom tomatoes, sliced
Extra-virgin olive oil
1 tin of Premium Quality Santoña Anchovy Filets
3 Tablespoons capers
Flaky salt 
Dried oregano 
How to prepare
Arrange the heirloom tomatoes on a large serving dish and drizzle with a generous amount of olive oil and a pinch of flaky salt.
Place the anchovy fillets on top of the tomatoes and scatter with capers, and then, sprinkle with a dash of oregano and Serve at room temperature.
Enjoy your delicious tomato salad with world renown anchovies recipe!