Delectable Jamón Ibérico de Bellota Broth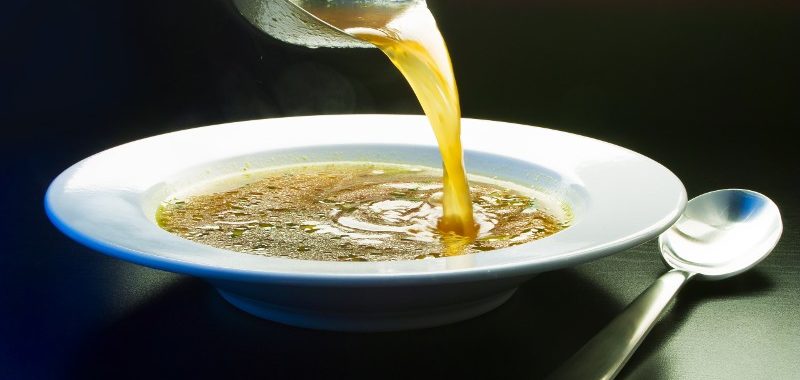 Enjoying a Whole Jamón Ibérico de Bellota is a truly unique and amazing experience. It is kind of a ritual every time you uncover the jamón and with a sharp knife you carve some thin slices to enjoy with a glass of red wine and some hand-made Picos Camperos from Seville, Spain.
A lot of Ibérico Club customers ask us what to do with the bones left from their delicious Jamón Ibérico de Bellota or their Paleta Ibérica de Bellota (shoulder leg). The answer is: Do not throw them! Instead, make your own home made broth and use it as a soup base, sauce base or in any other recipes you like.
You can take the leg to your local butcher and ask them to cut the bones into 3 or 4 manageable pieces, or you can use a small hacksaw to do it at home.
This broth is the best you will ever try. It really makes a difference when you use the bones of a Jamón Pata Negra! And it's very easy to make. Just follow these instructions.
Ingredients
Bones from leg of 1 Jamón 100% Ibérico de Bellota leg, cut into pieces*
3.5 qt. water 
1 leek, cut into thirds 
1 onion, cut into fourths 
6 cloves garlic 
How to prepare
Remove any yellowed or overly dry parts from the jamón leg. 
Bring a large pot of water to boil (you will throw this out, so quantity is not important). Once water is boiling, add jamón bones. Boil for about 3 minutes, or until the jamón turns white. This step helps to remove any impurities and excess fat. 
Remove jamón bones and throw out the water. 
Place bones back into pot and cover with 3.5 quarts of clean water. Place vegetables on top and cook covered on low heat for two hours. 
Every 30 minutes, uncover and skim any more impurities that float to the top. 
After broth has finished cooking, remove from heat and let it rest for at least half an hour.
Skim any fat that has risen to the top and strain the broth.
Add salt to taste.