Jamón Ibérico de Bellota vs. Italian Prosciutto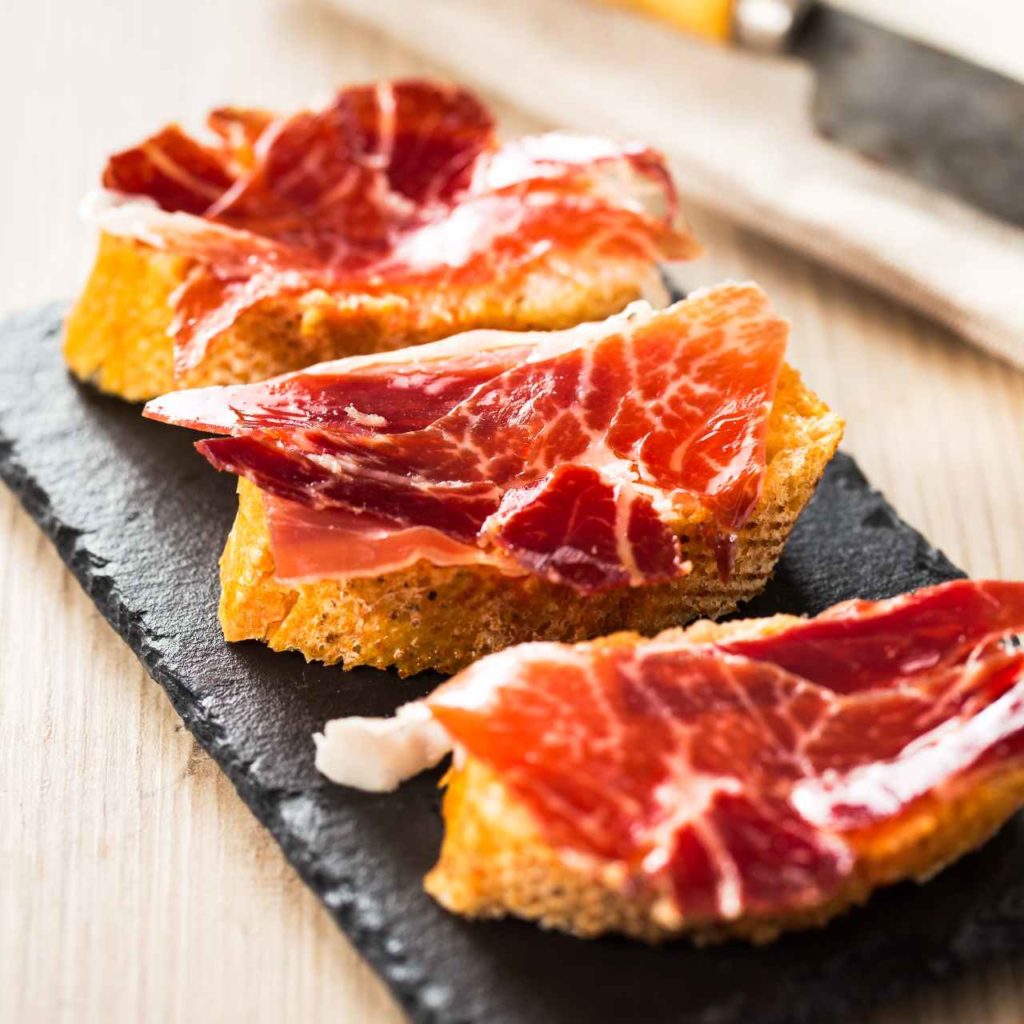 Mediterranean Europe has some of the world's most renowned culinary traditions, including cured hams found nowhere else on earth. Jamón Ibérico de Bellota from Spain, and Italian prosciutto are the two prime examples.
Most grocery stores in America carry at least one variation of pre-sliced and packaged Italian prosciutto. Other, more specialized locations offer it freshly sliced at the deli section. Sliced Ibérico ham, on the other hand, may be harder to find. But why?
Looking at how both Jamón Ibérico and Italian prosciutto are made, and where they come from, can help us answer this question. For the answer to be fair, it makes sense to compare the best cured ham each of these two countries has to offer.
In the world of cured hams, Jamón Ibérico de bellota reigns supreme. Its strict designation of origin standards, the uniqueness of the animals used, the quality, tradition, and expert hand-carving techniques make it stand above even the best Italian prosciutto.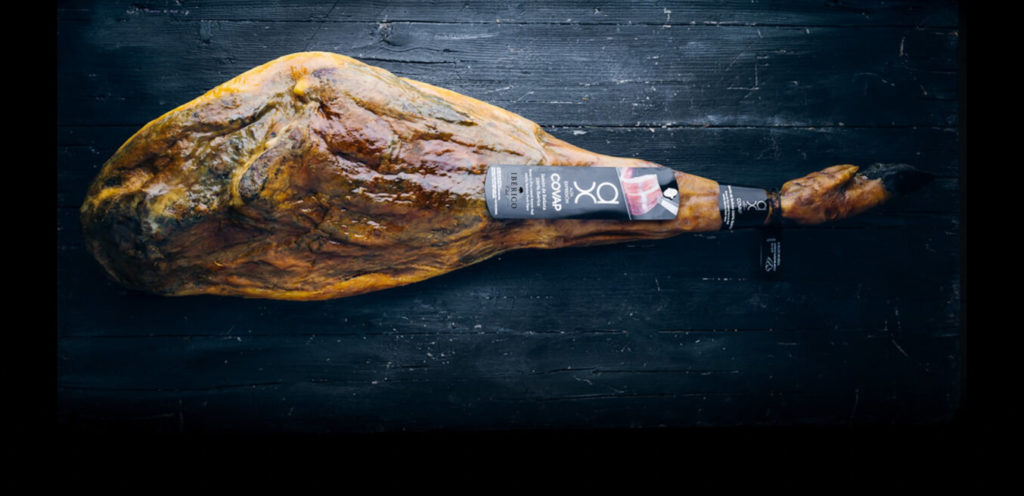 The making of Jamón Ibérico de Bellota and Prosciutto di Parma
At the heart of any cured ham, are pigs raised and bred following the highest quality standards. Both Spain and Italy have different breeds of animals, and unique curing and carving methods reflected in their products.
On one hand, we have Jamón 100% Ibérico de bellota, the highest grade Ibérico ham in Spain. It is made using pure-breed, free-range Ibérico pigs raised on a diet of local acorns, or bellotas. You may have seen it under a different name, Pata Negra, which translates to black leg. It is a term used to reference the pigs' dark hooves.
On the other, the best Italian prosciutto in the market is Prosciutto di Parma. It comes from Italian pigs raised on a diet of whey, which in turn originates from the production of Parmigiano Reggiano cheese.
When an animal reaches maturity, it is processed prior to being cured. Both Spanish and Italian pigs are at first processed similarly, and the animal's hind legs are reserved for the best part. Cured ham.
The curing process for Jamón Ibérico de Bellota takes 36 to 48 months. After that, a master carver with decades of experience takes great care in cutting every slice by hand according to strict specifications. Although machine-sliced products are available, they lose some of the properties that make Sliced Ibérico ham unique.
Prosciutto di Parma is cured for 12 months or more, and then machine cut into thin, long slices. Unlike sliced acorn-fed Ibérico ham, in which each flake is unique, Prosciutto slices tend to always look the same.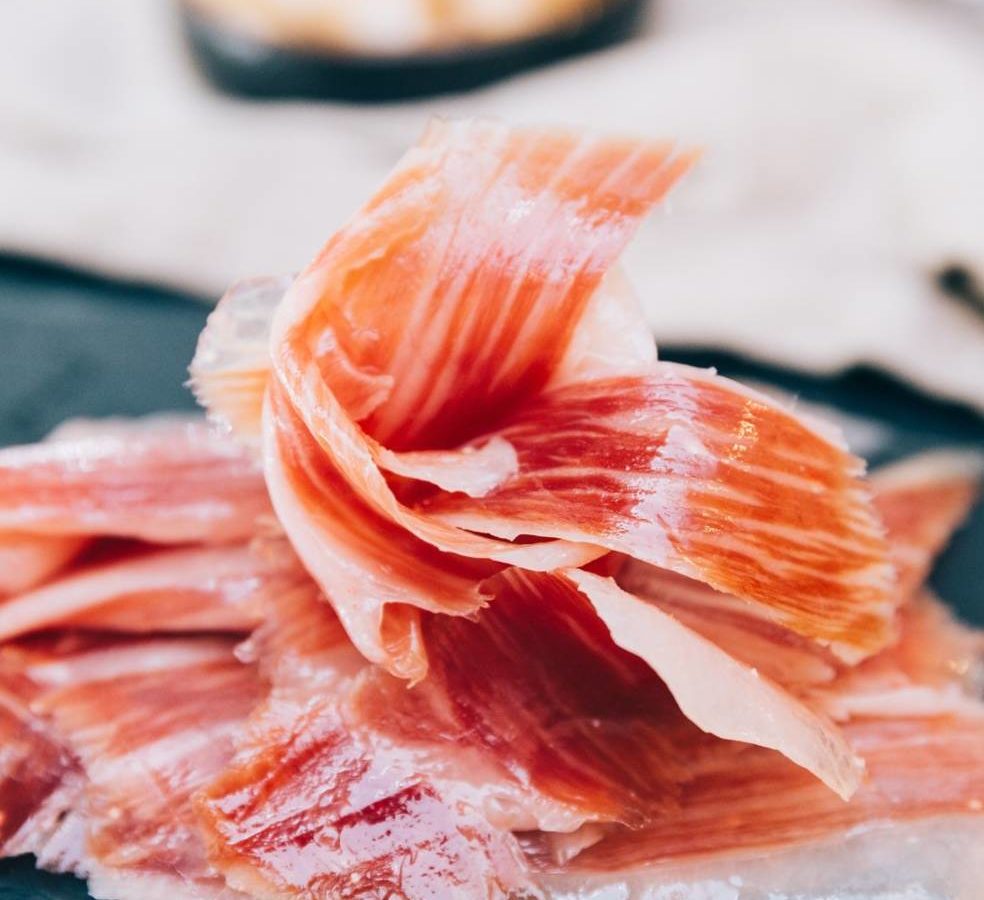 Where the best cured ham in the world comes from
Where a cured ham comes from has significant repercussions on its flavor profiles, textures, and price tag.
Prosciutto di Parma is made in a region near the city of Parma, but the animals used may come from several different places across Italy. Despite high quality standards, the flavor profiles of a final product may vary depending on where each particular pig comes from.
Jamón Ibérico de Bellota originates in four regions of Spain. Salamanca, Extremadura, Guijuelo, and Valle de Los Predroches in Andalucía. Some of biggest holm-oak forests in the world are located in these regions. The pigs themselves follow rigorous quality standards beyond their acorn-heavy diet. For example, Jamón Ibérico is covered under the Protected Denomination of Origin (DOP) scheme, restricting a ham's point of origin to a few and select geographic locations.

Jamón Ibérico de Bellota – where can you find it outside of Spain?
Prosciutto di Parma and Jamón Ibérico de Bellota represent the highest standards in cured ham, but there are significant differences between the two.
The combination of a unique and iconic pure breed, a longer curing process, strict POD standards , and traditional hand carving techniques, make Jamón Ibérico de Bellota the best in the world. Some of the best chefs in the world like Joel Robuchon, Ferran Adriá, and Anthony Bourdain, have declared Jamon Ibérico de Bellota as the "Finest cured meat on earth". It is richer and more complex than even the best prosciutto.
At Ibérico Club, we offer you the best Jamón Ibérico de Bellota delivered anywhere in the continental United States. Whether it is pre-hand-carved slices, or an entire jamón with its base and carving knife, we've got you covered.
Check out our Jamón selection and get yours Today!