Restaurant Worthy Clams with Chorizo Ibérico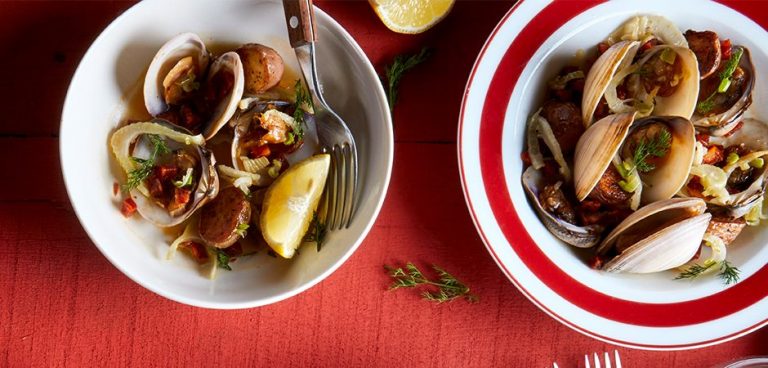 A simple one-pot seafood dinner featuring the finest Artisanal Chorizo Ibérico de Bellota. A 15-minute recipe that looks and tastes delicious. Here's how to prepare it.
Ingredients
3 oz. Artisanal Chorizo Ibérico de Bellota, casing removed and diced
2 Tablespoons extra-virgin olive oil
6 oz. fingerling or other small potatoes, halved
1 small fennel bulb, bulb and stems thinly sliced and fronds separated
1 bunch green onions thinly sliced, whites and greens separated
3 garlic cloves, thinly sliced
1 cup dry white wine 
2 cups fish or seafood broth
4 lbs. clams, scrubbed 
How to prepare
Heat chorizo iberico and olive oil in a large shallow pot over medium heat. Cook until chorizo is rendered and oil turns red. 
Add potatoes, fennel, onion whites, garlic, and a pinch of black pepper. Then cook until fennel has softened and potatoes are browned, stirring frequently. 
Add white wine and cook until reduced by about half. Then add broth and cook until potatoes are tender. Test for salt and add if necessary. 
Add clams and cook (covered) until they open, about 10 minutes. Discard any clams that didn't open.
Top with onion greens and fennel fronds and serve immediately.
Learn why our unique Chorizo Ibérico de Bellota is a key piece of the Spanish gastronomy.