Spanish tortilla cream au gratin with Jamón ibérico.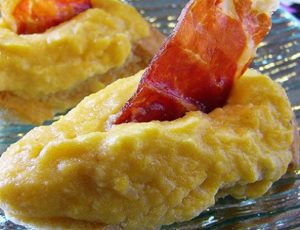 This is a delightful twist of the famous "Pincho de Tortilla" from Spain. A very original way to enjoy an iconic Spanish tapa. After you made your delicious Spanish Tortilla you put it in the blender with an extra egg and into the oven!
Don't be scared because you are about to taste a delectable Spanish tapa, with different textures and amazing flavor profile. The creamy texture of the tortilla and the crunchy texture of the Jamón Ibérico elevate this tapa to a new level. Also check out this video on how to make the perfect tortilla.
Ingredients
8 Slices of Jamon Iberico de Bellota
3 big Potatos.
6 Eggs
1 Onion
2 Green peppers
1 french bread or similar
Olive Oil
Salt
How to prepare
Begin by Pre-heat oven to 370F
Next, cut a few slices of your French bread and toast them.
Now we are going to bake the slices of ham in the oven for 8 minutes until crunchy.
Next, you prepare a Tortilla de Patatas. Follow these instructions (https://www.ibericoclub.com/tapas/spanish-tortilla-with-jamon-iberico/).
In order to make the tortilla cream au gratin, you break the tortilla into small pieces and put it in the blender for 30 seconds with an extra egg.
Now, cut the green peppers into chunks big enough so that they cover the slices of bread. Fry and dry them.
Continue now by putting a slice of fried green pepper over each toast, then the tortilla cream, and put it in the oven until the extra egg has cooked.
Finally, decorate the "pincho" with a slice of crunchy jamón on top.