Tuna belly salad with avocado, Jamón Ibérico and sweet Wine reduction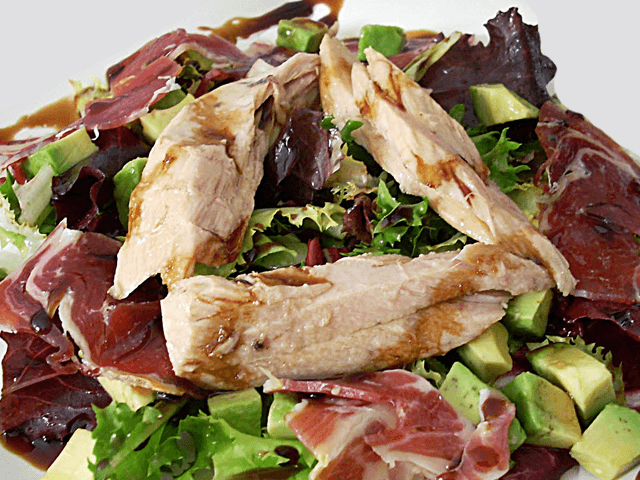 Enjoy a healthy and very delicious lunch with Tuna belly and the best Jamón Ibérico!
Ingredients
Mixed greens for the salad.
1 small avocado.
2 oz of Acorn-fed Ibérico Ham.
1 can of tuna belly.
Extra virgin Olive Oil.
The juice of ½ lemon.
Salt
For the wine reduction: Sweet dessert wine and sugar
How to prepare
Begin by putting the wine and sugar in a pan over medium heat for 30 minutes or until the mix has reduced to half and the texture is starting to get dense. Remember to stir it constantly to dissolve the sugar in the wine.
Dice the avocado, add lemon juice and olive oil and save it in a bowl.
Add salt, a hint of olive oil, and some of the wine reduction to the greens, and start plating the small pieces of avocado, Jamón Ibérico de Bellota and the tuna belly salad.
Finally, add on top some more wine reduction to decorate.