Scrambled Eggs with Jamón Ibérico and Mushrooms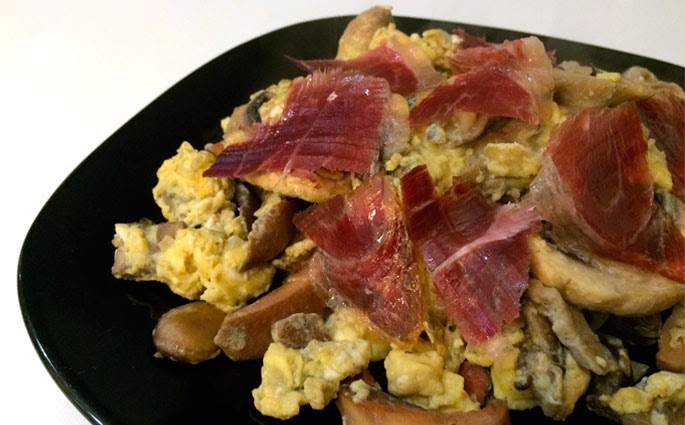 The ultimate scrambled eggs with mushrooms topped with the finest cured meat on earth. In Spain it's called "Revuelto de Setas y Jamón Ibérico" and it's a very well-known dish. Have it for breakfast, appetizer, main course, or dinner. It's always a good time for this dish.
Ingredients
1/3 cup extra virgin olive oil
1 lb. mushrooms of your choice, sliced or torn
4 Tablespoons sherry vinegar
Salt and pepper to taste
10 eggs
4 cloves of garlic, thinly sliced
8 slices of Jamón 100% Ibérico de Bellota, room temperature 
How to prepare
Heat olive oil on medium-hight heat in a large sauté pan. Add mushrooms and toss to coat, then let sit undisturbed for 3-5 minutes, until start to brown. Flip and cook until golden.
Add garlic, vinegar, and a couple pinches of salt and pepper and cook until vinegar evaporates and garlic softens.
Whisk eggs in separate bowl. Turn town heat to medium and add eggs to pan. Cook eggs to your preference.
Top with slices of Jamón.